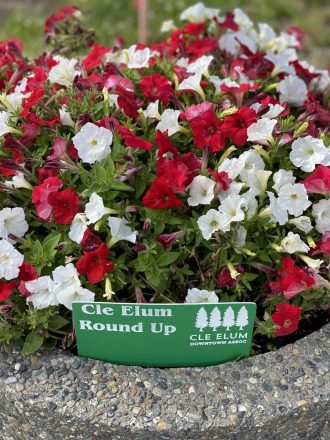 Summer Blooms Coming Soon
Bountiful blooms will soon be lining First Street in downtown Cle Elum. Thanks to generous residents, businesses, and organizations who adopt-a-basket or purchase hanging baskets, downtown will be filled with flowers again this summer. "We received so many compliments last year from residents and visitors alike on the sparkle the baskets and planters brought to downtown," said CEDA Board President, Marc Kirkpatrick.
The beautification program is sponsored through the Cle Elum Downtown's Adopt-a-Basket and basket sales program, Cle Elum in Bloom. The planters from last year will be filled with flowers by green-thumbed volunteers and placed on the streets with the help of the City of Cle Elum's Public Works crew. In addition to adopting a planter or basket, there are a limited number of the eye-catching hanging baskets available for sale if you would like to bring the flowers home with you. Interested in adopting a basket or purchasing a hanging planter? Visit www.cleelumdowntown.com/cleeluminbloom or call Taryn at 509-433-7330. Cle Elum in Bloom is organized by the Cle Elum Downtown Association whose mission is to protect, promote, and preserve historic downtown Cle Elum.