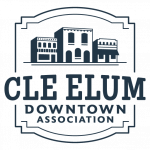 Cle Elum Downtown Association Announces a New Look
The Cle Elum Downtown Association (CEDA) is releasing a new look this week. The Association wanted branding that better reflects the feel and atmosphere of downtown Cle Elum. The new brand was released at the same time as the organization's new website. The Board of Directors will be handing out gift bags to businesses in downtown Cle Elum filled with local goods decorated with the new logo.
"We thought the Cle Elum Downtown Association needed a look that fit Downtown Cle Elum better," said Cle Elum Downtown Association Board President Marc Kirkpatrick. "The Board and committee members were really inspired by our history, the new brand is meant to reflect that heritage." The buildings used to design the logo were drawn from three eminent historical buildings in Downtown Cle Elum to give the authentic feel the Board envisioned. The design is meant to inspire a railroad feel, and the brand colors help that come to life.
The organization's website is also getting a facelift to make the page more visitor friendly. New website features will include a directory of businesses in Downtown Cle Elum, as well as a dedicated news blog. The new site was designed and developed with the new feel and branding at the forefront.
The Cle Elum Downtown Association is best known for their signature and holiday events like Christmas in Cle Elum, Pioneer Days Weekend, and the new Public Market. The organization also distributes façade and beautification grants to businesses within the downtown Cle Elum core. The association is a nonprofit that works collaboratively with businesses and the community to preserve, promote, and enhance Cle Elum's historic downtown.